Click here to search worldpay.com
About Multibanco
Multibanco is an interbank network in Portugal. This network is run by SIBS (Sociedade Interbancária de Serviços S.A.) and enables many services, including payment services, to be hosted.
Shoppers can use the Multibanco payment method to pay merchants through their Internet bank or by using an ATM. The service is supported by all major banks in Portugal, and is therefore accessible to the maximum number of shoppers.
Note:  Multibanco is different from other APMs in the following ways:
This payment method does not support the default pending URL. You must always supply your own URLs.

The pending URL is always returned with the data appended to it, which you must display to the shopper. For more information, see Example XML Order.
Shopper journey
To make a payment using this method:
On the payment methods page, the shopper selects the Multibanco payment method.
The shopper logs in to the Multibanco page The Multibanco page then displays a payment reference and other details that the shopper can use to make a payment from their internet banking application, or use their bank card in an ATM.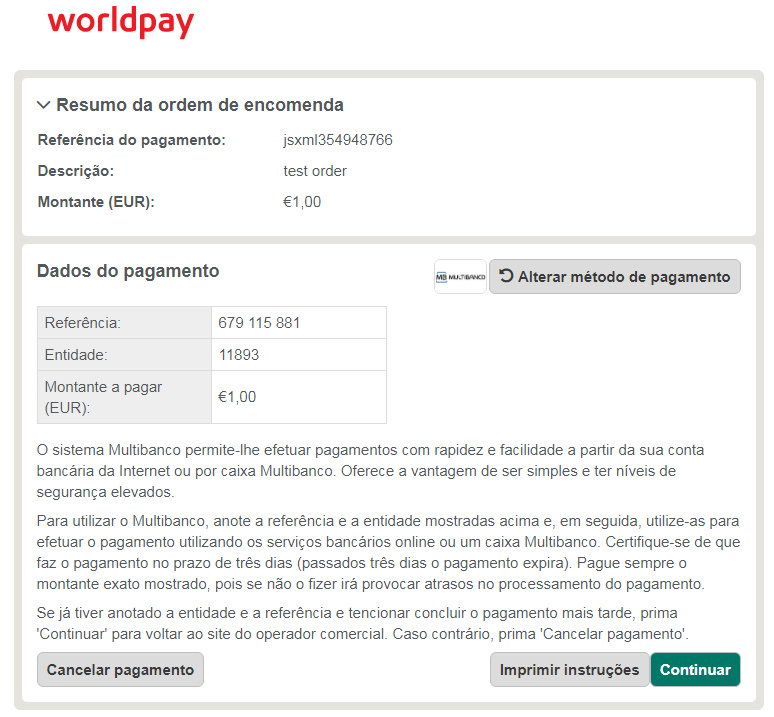 The shopper makes the payment by either logging on to their online bank, or using an ATM.
Note:  The shopper must complete his or her payment by 23:59 UK time on the third day after the order was placed on the Worldpay system. For example, if the merchant submits a payment to the Worldpay system at 15:29 (UK time) on Wednesday, the shopper must use an ATM or bank to complete the payment by 23:59 (UK time) on Saturday. Wednesday + three days = Saturday.
For integration advice, please visit Worldpay developers.
Payment method properties
The properties for this payment method are described in the following table.
| Property | Description/ Value |
| --- | --- |
| Payment Type | Post-pay voucher |
| Country | Portugal |
| Acceptance Currency and Preferred Currency | EUR |
| Settlement to Worldpay Currency | EUR |
| Minimum Amount for a Single Transaction | 1 EUR |
| Maximum Amount for a Single Transaction | 2500 EUR |
| Direct Refunds (Yes/No) | No |
| Chargebacks (Yes/No) | No - unless the transaction is subject to a court ruling. |
| Payment Method Mask | MULTIBANCO-SSL |
| statementNarrative (Yes/No) | No |